These stuffed peppers are a healthy and hearty lunch or dinner idea. They are a great way to make use of left over rice and/or veggies in your fridge. We especially like this recipe with our Cookin' Greens Athlete's Mix with feta cheese for some extra protein. Seasoned simply and topped with parsley- you have yourself a meal fit for a dragon!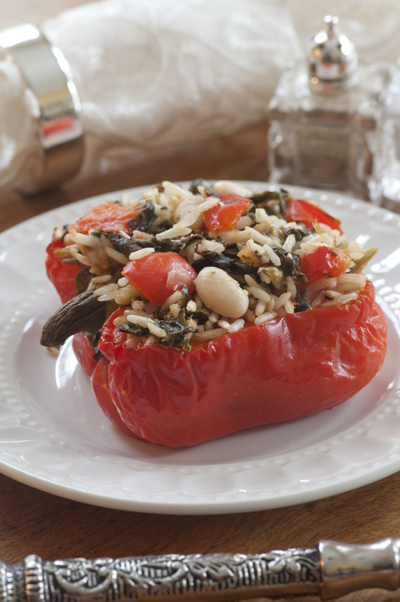 Cookin' Greens Stuffed Red Peppers
2015-03-17 11:29:32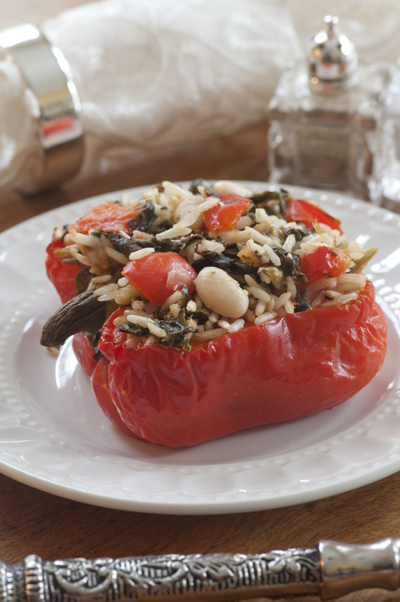 Serves 4
3 cups (300g) Cookin' Greens Athlete's Mix
2 tbsp (30ml) olive oil
4 red peppers, halved + 1/2 cup (125ml) diced red pepper
2 medium onions (200g), chopped
3 medium tomatoes (230g), diced
2 tbsp (30ml) chopped parsley
2 cups (500ml) brown rice
2 cups (500ml) vegetable broth
1 cup (250ml) chopped feta
Heat olive oil over medium heat. Sauté onions for 3 minutes.
Add tomatoes and red pepper, sauté for another 5 minutes.
Add Cookin' Greens, chopped parsley and feta. Cook for another 2-3 minutes.
Add rice, stirring to coat. Add chicken broth and bring to a boil.
Remove from heat, cover and let sit for 30 minutes.
While rice is cooking, preheat oven to 350°C. Grease a baking dish with olive oil.
Once 30 minutes is done, scoop rice mixture into red pepper halves, cover with a lid or tin foil and bake in the oven for 1 hour.
Gluten Free
Low Calorie
Dairy Free : Remove cheese, load up on veggies and add herbs if desired
Vegetarian
By

By Living Lou for Jim Treliving
Adapted from By Living Lou for Jim Treliving
Cookin' Greens http://cookingreens.com/