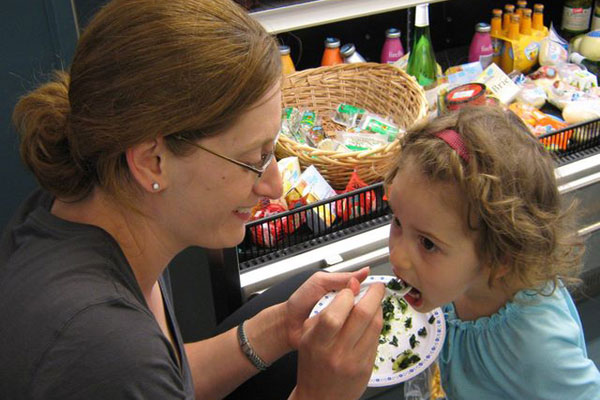 "I am writing to your company to convey my immense pleasure and gratitude to you for your amazing product. I would like to compliment the staff and management of your company, for giving your clients the best healthy frozen vegetables products on the market. I am a mother of 4 children, all school age. As you can imagine, a big family also means many costs. Cookin' Green products are an excellent choice for my family, as they are very healthy and delicious! They make an excellent, easy side dish for our dinners! I am extremely happy with the products of the company. Please accept my congratulations for your wonderful products and impeccable services." — Celine, Quebec, December 2015
"Hi, I was just writing to let you know how much my family enjoys your Cookin' Greens. They taste like they just came out of the garden fresh I was wondering if you send out money saving coupons if so I would appreciate and that you may send my way. Thanks again, Christine." — Christine, NB, October 2015
"I have Cookin' Greens on the mind as I prepare another recipe (
Cookin' Greens Breaded Artichoke Heart Quarters
) from my mother-in-law using your wonderful artichokes. Such a wonderful product taking the work out of cleaning them!"
— Clare, Toronto, April 2015
Hi, I just wanted to drop you a note that my family had your Athlete's Mix last night and it was delicious. Quick and easy to prepare.
— Jamie Bussin, Publisher, Tonic Magazine, January 20, 2012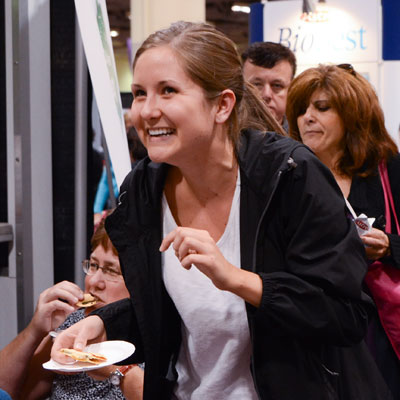 Hi, I just am thrilled you like the [soup recipe idea], I'm a bit of a foodie and this new product was taste tested by my daughter and husband with 2 thumbs up. Kindest regards, Joanne
— Joanne, Brampton, April 12, 2011
Hi, it's Susan from Taz Hair Salon. I tried a mix of Kale and Rapini. Rapini is usually one of my least favs, but I really enjoyed these. The cut was good. The taste was excellent. Most frozen vegetables has weirdness about it. I did NOT find that with your product! Thanks so much. Susan
— Susan, Toronto, March 9, 2009
Here is a real simple recipe for Cookin Greens, use whatever product you want, mix them with low fat cottage cheese in blender Cuisinart add to pasta, whole wheat etc. I made this for the baby the other night, he is a fussy eater and he wolfed it down. It was good for me I would have added something to spice up but it was yummy.
— Bayla, Toronto, May 8, 2009
It was so nice to meet you! You're fantastic and I love your energy… even on a rainy day in the middle of nowhere you were able to "bring it"! Just wanted to say hello and I tried making the greens with udon noodles and IT WAS SOOOO GOOD! I'm having a get-together this weekend with some girls and I'm going to show off my cooking skills by making GREENS! LOVE LOVE LOVE THEM! You have a great product and BRAND!
— Lily, Toronto, May 12, 2009
Had to run to Sobey's! I'm hooked on the Greens! I'm the worst cook ever, but it's too easy! You can quote me on that!
— Lily, Toronto, May 19, 2009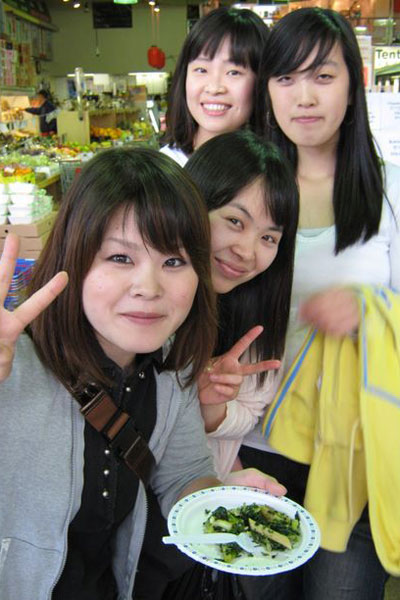 I saw this product on TV… (CTS)…what a great idea! I make a great recipe that includes kale…let me tell you about it: Sauté [diced] onion and olive oil, add kale, raw [quartered] potatoes add pieces of spicy sausage, cook for a while, salt and pepper to taste!
— Reny, Highland Farms, June 6, 2009
I actually had a dinner party last night and served the Designer's Mix to my boyfriend & friends! It was a big hit and a great way to add some colour and variety to the main pasta dish I served.
— Terry, Fab Magazine Toronto, June 18, 2009
I have been using your Cookin' Greens and they are really great. I mixed them into pizza sauce and made homemade pizza for the kids as well as mixed into my homemade meat sauce. They loved it. Even Steven didn't notice. I am going to try to put it in everything I can for them. It is a great way for them to get veggies without knowing!
— Melissa,Toronto, August, 2009
A quick note to let you know that my daughter is a huge fan of your greens (as am I) and has been devouring them ever since I brought home a package from the Big Carrot.
— Emil, Toronto, December 14, 2009
Hi, I am so addicted to your product. I make it all the time, throw it in a pan with garlic and olive oil and last night lentil, and lemon to finish. I think you might consider selling this to diet groups, fixed meals. It's awesome.
— Marla, March 2010
Cookin' Greens are an awesome concept when you are in a rush, when you don't have fresh in the fridge, when you use as an ingredient and when you don't have experience cooking green leafy veggies. Most people don't even know what kale is? CG is a wonderful introduction to today's modern mom.
— Dimitra, Sept 2010
On the weekend of Oct 16 – 18 2009 I had the pleasure of attending PHAT (Power, Hard work, Attitude and Triumph) Camp hosted by Jen Hendershott – Ms. Fitness International 2009. I have attended PHAT Camp for 3 years now. It always amazes me that every year the experience is so different and I learn a little more about myself and the great things I can accomplish. This year was extra special for me because I got to introduce my new love with my fellow campers and that love is Cookin Greens. I think Cookin Greens is the best things since sliced bread and so do my fellow PHAT Campers! So for all of you out there seeking better food choices and healthier eating habits, we invite you to come to one of our demo's and try Cookin Greens for yourself so that you can see what all the ladies at Phat Camp are raving about.
— Natalie, Toronto, Phat Camp, October 2009
Here is Jen Hendershott
enjoying her Greens
and Jen say
"MMMMMMMMM Good"

PHAT CAMP ROCKS!

The Phat Camp Ladies
love Cookin Greens