Wraps are that portable go to meal as they are appropriate for anytime of day, and like stews, help you clean out your fridge of veggies that need to be used up and last nights left-overs.
This wrap will be a staple of yours, as it is healthy, and easy to make for a breakfast, lunch, snack or dinner idea. Place filled wrap back onto preheated sauté pan and heat for 1-2 minutes on each side over medium heat to brown and crisp the outside. Wraps also taste great with guacamole and sour cream on the side.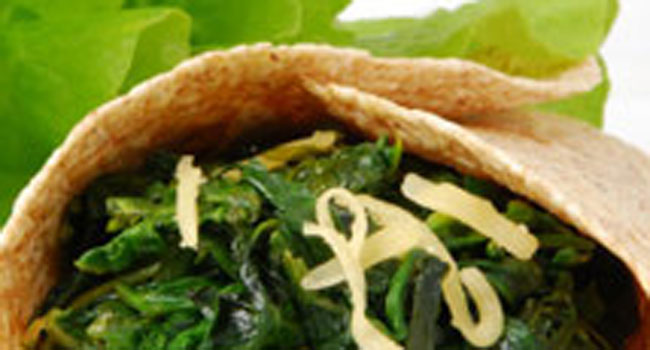 Cookin' Greens - Every day, any time of day WRAP
2015-02-13 14:39:49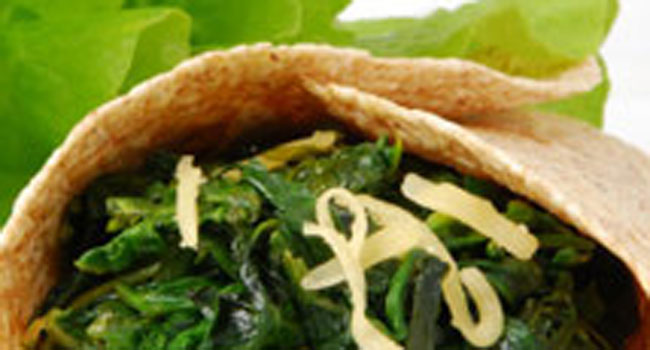 Serves 1
½ cup (50g) any Cookin' Greens product
2 eggs
1 tbsp julienned sundried tomatoes in oil (optional)
2 tbsp (30 mL) shredded Cheddar Cheese
1 large whole wheat tortilla
1 tbsp (15 mL) salsa
Salt & pepper to taste
In a small bowl, whisk eggs with salt and pepper.
In a medium non-stick pan heat ½ cup of Cookin' Greens with garlic and olive oil. When the greens are almost heated through, make a well in the centre of the pan and add whisked eggs; move the eggs around with a spatula until almost cooked (*you can add 1 tbsp julienned sundried tomatoes in oil at this point - optional).
Mix the eggs together gently with sautéed greens until they are completely cooked but not dried out. Remove pan from the heat. Place wrap on the counter and fill the centre with the egg/greens mixture leaving 1″ space around the outside to prevent the filling from falling during the rolling process. Top egg/greens mixture with 2 tbsp shredded cheese of choice.
Fold in the sides then roll the tortilla carefully over the filling making sure that everything is securely inside.
Enjoy with your favourite salsa on the side.
Low Calorie: ** Use egg whites and load up on veggies, limit the cheese!
Gluten Free: ** Use a gluten free tortilla
Dairy Free: ** Use a dairy-free cheese or remove cheese and add more veggies, season with herbs if desired!
Vegetarian
Cookin' Greens http://cookingreens.com/