The scrambled eggs and salami in this recipe make this dish a high protein option ready in minutes. Season this dish with fresh basil leaves, onion and garlic. Enjoy some for lunch or dinner stuffed into a pita or tortilla.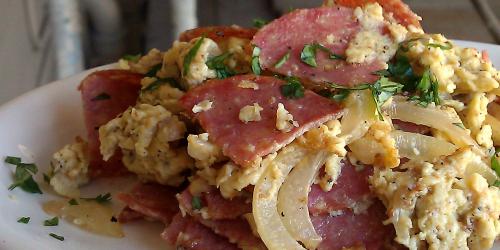 Cookin' Greens Scrambled Eggs with Salami
2015-04-01 12:57:59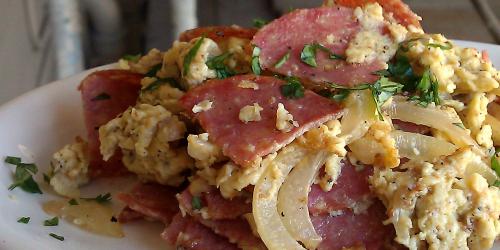 Serves 2
1 cup (100g) Cookin' Greens Spinach
1 tbsp (15ml) olive oil
1 medium onion (90g), minced
1 clove garlic, (5ml), finely chopped
1 cup (7-8 oz) diced salami
4 large eggs
1 tsp (5ml) fresh basil, chopped
Salt and pepper to taste
Heat oil in large skillet. Add onion and cook over medium heat, until soft, about 5 minutes
Stir in the garlic, Cookin' Greens Chopped Spinach, salami and cook, stirring often, for 3 minutes
Stir in the eggs and basil. Add salt and pepper. Cook over medium heat, stirring constantly until the eggs are scrambled, about 3 minutes.
Gluten Free
Low Calorie : Use low fat ham or turkey breast instead
Dairy Free
Cookin' Greens http://cookingreens.com/