Both a side-dish or stuffing, this moist and earthy recipe is a perfect blend of greens and savoury sausage. The focaccia cubes anchor it by soaking up all of the combined ingredients and flavours.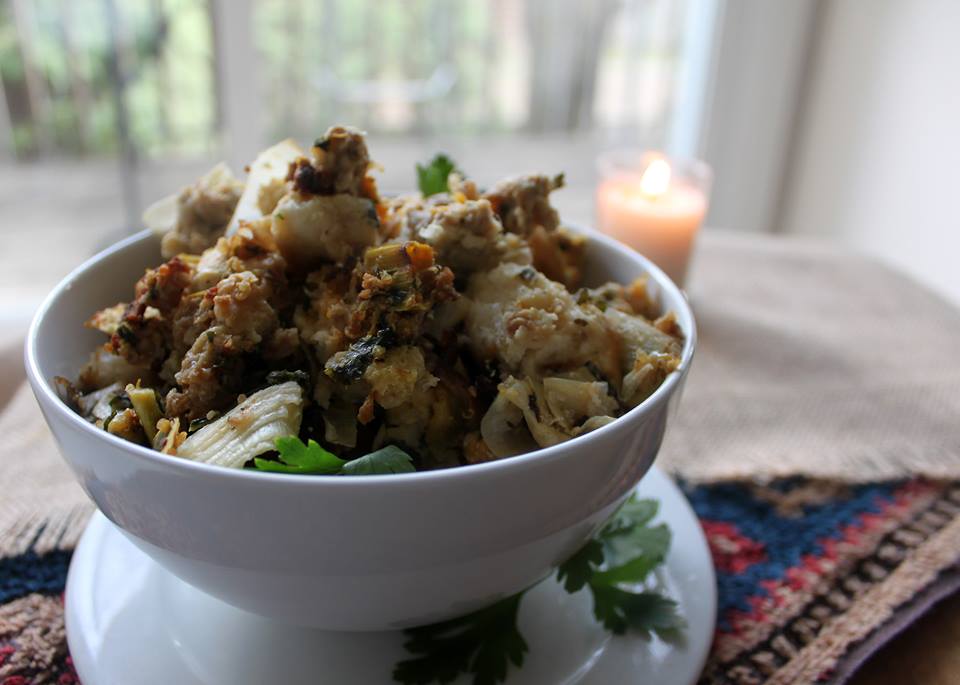 Cookin' Greens Savoury Kale, Butternut Squash & Quinoa Side-Dish
2015-10-05 21:01:35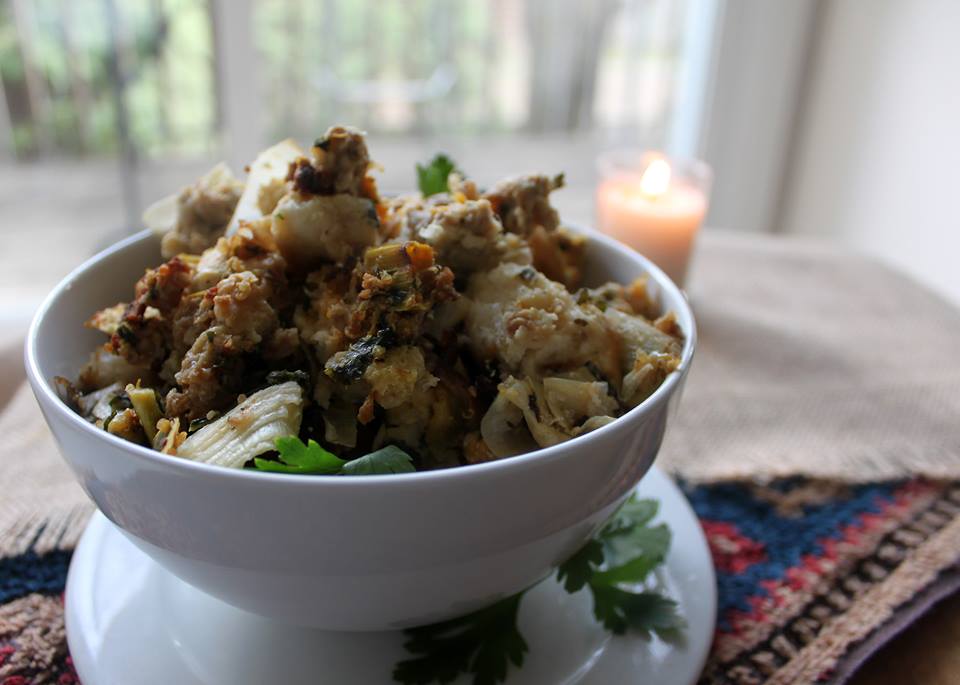 Serves 4
1 bag (300g) of Cookin' Greens Kale, Butternut Squash & Quinoa Blend (frozen)
4 tbsp of olive oil
3-4 fennel sausages, casings removed
3 large leeks, white and light-green parts only, sliced
1/2 lb stale multigrain onion focaccia, cubed
1 large egg
1 1/2 cups low-sodium vegetable or chicken broth
1/2 cup parmesan cheese, grated, plus another 1/4 cup grated*
Preheat the oven to 350゚ F.
Grease 9" x 9" casserole dish with oil.
In a large sauté pan heat oil. Add sausage. Cook until golden brown (about 6 minutes).
Add leeks and frozen Cookin' Greens Kale, Butternut Squash & Quinoa Blend; season with pepper.
Cook until leeks and kale are softened (about 5 minutes).
Add the focaccia cubes and remaining oil.
In a separate bowl, whisk the egg and chicken broth until smooth; stir in grated parmesan cheese. Pour the broth mixture over the bread mixture; cook until liquid is absorbed by the bread, about 1 minute.
Transfer mixture to the prepared oven proof casserole dish. Scatter remaining grated cheese evenly on top and bake until golden and cooked through, about 40 minutes.
Serve as a side-dish or use as a savoury stuffing.
Gluten Free
Vegetarian : Remove sausage or use a vegetarian sausage
Cookin' Greens http://cookingreens.com/