Surprisingly fluffy and light, these savoury egg cupcakes are complimented with the addition of a decadent goat cheese & dill icing – a perfect pairing. Enjoy them now or save them for later- these can be frozen and microwaved for breakfast on the go.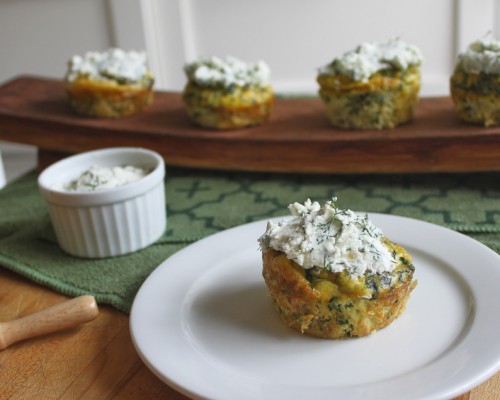 Cookin' Greens Rise and Shine Savoury Cupcakes
2015-10-05 21:15:03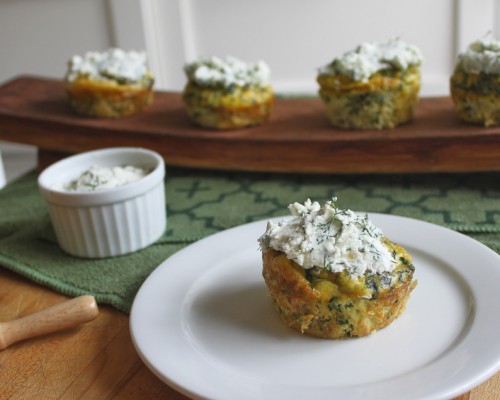 Serves 4
2 cups (250g) of Cookin' Greens Chopped Kale and/or Chopped Spinach (frozen)
8 large eggs with omega 3
3 tbsp olive oil or cooking spray
1 garlic clove, thinly sliced
1 bunch of dill, chopped
1/4 cup goat cheese, crumbled*
Salt and pepper
Preheat the oven to 350゚ F.
In a large skillet, from frozen, add Cookin' Greens Chopped Spinach and/or Kale and follow stove-top preparation instructions on package. Set aside to cool.
In a separate bowl, whip together goat cheese, garlic and dill. Set in fridge.
In a large mixing bowl, add eggs, whisk. Add sautéed Cookin' Greens, salt and pepper.
Grease 8 cup muffin tray with olive oil, cooking spray or use a non-stick tray.
Divide the mixture between 8 muffin cups. Fill only ⅔ of each cup as the mixture rises when it's baking. Bake at 350 ゚ F in pre-heated oven for 30 minutes.
Remove muffins from oven and let cool.
Serve topped with goat cheese, garlic and dill spread.
Low Calorie
Gluten Free
Dairy Free : Remove goat cheese spread
Vegetarian
Cookin' Greens http://cookingreens.com/