Perfect for that summertime picnic, this wholesome pasta dish is anchored by the earthiness of the greens and walnuts. The natural saltiness coming from the sun-dried tomatoes & parmesan is balanced by the fresh herbs.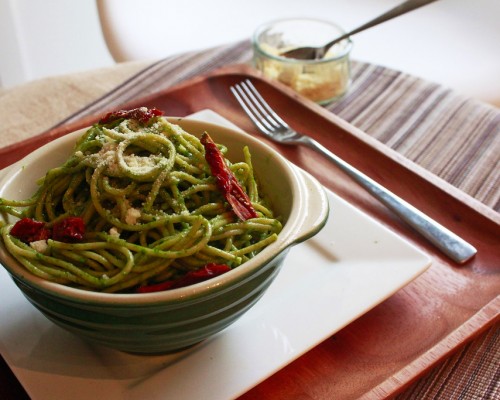 Cookin' Greens Garden Pesto Pasta
2015-10-05 21:30:03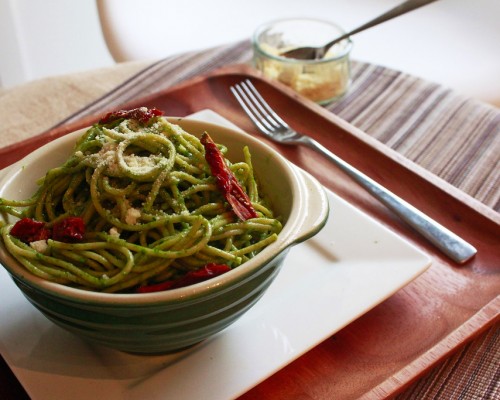 Serves 4
1 cup (100g) of Cookin' Greens Chopped Kale (frozen)
1 cup (100g) of Cookin' Greens Chopped Spinach (frozen)
2 tsp flax seeds, whole
1/4 cup walnuts, chopped
1 ¼ cup basil, chopped
5 sprigs mint, chopped
3 garlic cloves, whole
1/4 cup sun dried tomatoes, diced or julienned
1/2 cup parmesan cheese, grated *
2 cups whole wheat spaghetti noodles
2/3 cup olive oil
In a large skillet, from frozen, add Cookin' Greens and follow stove-top preparation instructions on package. Set aside to cool.
On high speed blend the remainder of oil and flax seed. Add sautéed Cooked Cookin' Greens to blender warm, but not hot. Add basil, mint and walnuts and continue to blend for 60 seconds.
Chop sundried tomatoes and set aside.
In a large pot boil water. Cook whole wheat noodles according to package instructions.
In a large serving bowl toss together the cooked noodles and pesto sauce. Mix well.
Serve topped with chopped sundried tomatoes and parmesan cheese.
Low Calorie
Gluten Free : Use gluten free pasta
Dairy Free : Use ground almonds instead of parmesan
Vegetarian
Cookin' Greens http://cookingreens.com/