This Meatloaf recipe is a oldie but goodie. It consists of ground meat mixed with bread crumbs and other ingredients for lots of flavour -spices, onion, garlic, celery and kale. Once set into a baking dish and cooked it develops its loaf shape which makes it easy to slice and share.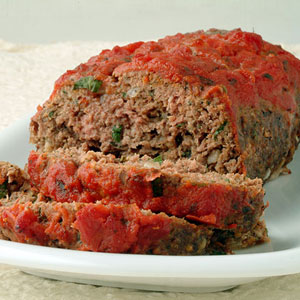 Cookin' Greens Turkey Meatloaf with Chopped Kale
2015-03-10 13:38:25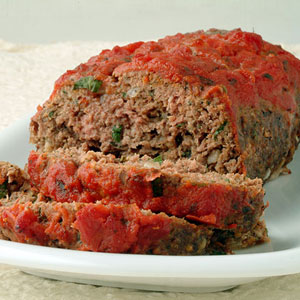 Serves 4
1 1/2 cups (150g) Cookin' Greens Chopped Kale
1 1/2 pounds (680g) ground turkey
½ cup (125ml) minced onion
1 cup (250ml) bread crumbs
1 egg
½ cup (125ml) thinly sliced celery
3 tbsp. (45ml) chopped parsley
1 tsp (5ml) minced garlic
¼ cup (60ml) milk
½ tsp (2ml) dried basil and oregano
2 tbsp. (30ml) Dijon mustard
½ cup (125ml) grated cheddar cheese
Salt and pepper to taste
Preheat oven to 350F. Oil a loaf pan.
In a medium size bowl, mix turkey, onion, bread crumbs, egg, celery and parsley.
Cook Cookin' Greens Kale until heated through.
Add kale to bowl. Stir. Add garlic, milk, salt, pepper, basil, and oregano. Mix together in a bowl.
Pat mixture into oiled loaf pan.
Spread top with a thin layer of Dijon mustard and bake for 45 minutes.
Allow to stand for 10 minutes. Serve with grated cheddar cheese.
Gluten Free : Use gluten free bread crumbs
Low Calorie : Use extra lean ground turkey
Dairy Free : Remove cheese, load up on veggies and add herbs if desired
Cookin' Greens http://cookingreens.com/