Pearl barley is a whole grain that taste great in salads and soups. In this dish, we added mediterranean ingredients – tomatoes, our Chopped Spinach, a medley of coloured peppers and feta for a meal option that is healthy and delicious but more filling and satisfying then a green salad.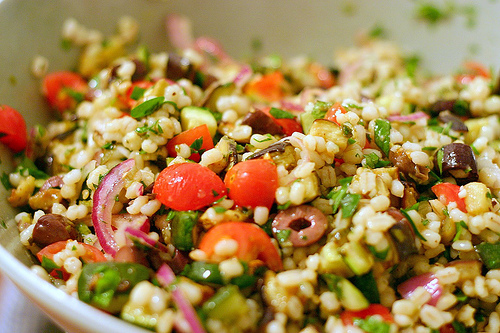 Cookin' Greens Mediterranean Pearl Barley Salad
2015-03-17 13:25:18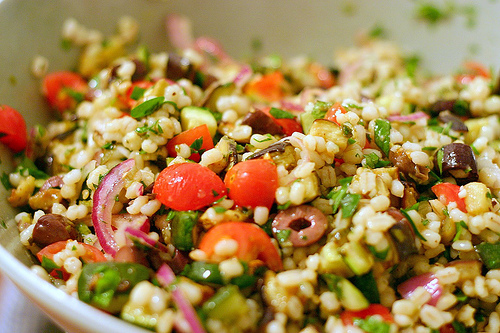 Serves 4
1 cup (100g) Cookin' Greens Chopped Spinach
2 cups (500ml) vegetable or chicken stock
1 cup (250ml) pearl barley
1/4 cup sun - dried tomatoes, chopped
2 medium tomatoes chopped and seeded
3 green onions finely chopped
1/2 each of red and yellow pepper, seeded and chopped
1 tbsp fresh oregano or 1 tsp of dried oregano
1/2 cup (125ml) of flat leaf parsley
1/2 cup (125ml) of balsamic vinaigrette (1/4 c. olive oil, 1/4 c. balsamic vinegar, 1 tsp Dijon mustard)
1/4 cup (60ml) feta cheese , crumbled
1/4 cup (60ml) toasted pine nuts, toasted and optional
Bring stock to a boil in a sauce pan. Slowly pour in barley, cover pan, lower heat and simmer about 30 minutes until liquid is absorbed. Fluff grains and cool in a large bowl.
Cook Cookin' Greens until heated through and tender
Chop sundried tomatoes and add to the cooled barley along with fresh tomatoes, green onions, peppers, oregano and half the parsley
Before serving, toss with half the dressing. Taste and add more dressing if needed. Add the feta, pine nuts and rest of parsley.
Low Calorie
Dairy Free : Remove cheese, load up on veggies and add herbs if desired
Vegetarian
Cookin' Greens http://cookingreens.com/