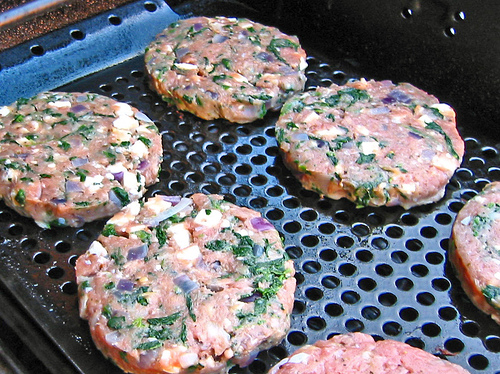 Cookin' Greens Chicken or Turkey Spanakopita Burgers
2015-03-12 15:44:44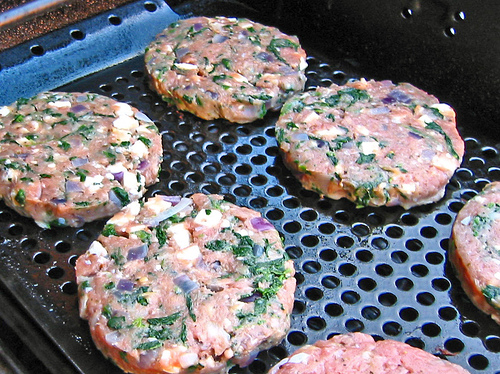 Serves 4
1 cup (250g) Cookin' Greens Chopped Spinach or Chopped Spinach and Chopped Kale blend
1 tbsp (15ml) extra-virgin olive oil
1 tbsp (15ml) unsalted butter
2 garlic cloves (2 tsp)
1/2 red onion, chopped
1 tsp (5ml) dried oregano
¼ lb (115g) feta crumbles
500-600g of ground chicken or turkey
1 tbsp (15ml) grill seasoning, such as McCormick's Montreal Steak Seasoning
Heat a large skillet over medium heat. Add the olive oil and butter. When the butter melts, add the garlic and all of the onions and cook for 1-2 minutes.
Add the Cookin' Greens Chopped Spinach (from frozen) and sauté for 10-12 minutes.
Transfer to a bowl to cool.
Once cool, season the spinach mixture with oregano and add feta crumbles, then the chicken or turkey, grill seasoning and a drizzle of olive oil.
Mix well and then divide into 4 sections to form 4 patties, 1 inch thick.
Cook in pan over medium high heat, or BBQ, for 6 minutes per side or until internal temperature reaches 180 F.
Gluten Free
Low Calorie : Use extra lean ground turkey
Dairy Free : Remove cheese, load up on veggies and add herbs if desired
Cookin' Greens http://cookingreens.com/