The humble artichoke offers a bounty of nutrition and flavour to your meals. Artichoke hearts have an earthy taste that is so wonderfully paired with a few glugs of good olive oil and some parmesan cheese… add some extra herbs and some pasta and now you got yourself a meal!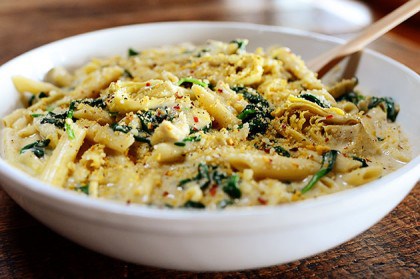 Cookin' Greens & Artichoke Heart Pasta
2015-02-13 13:51:35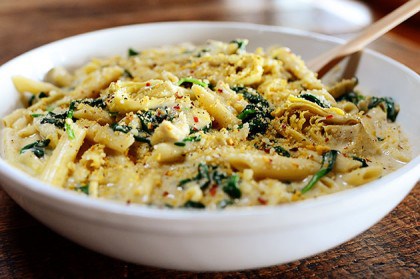 Serves 4
2 ½ cups (600 mL) Cookin' Greens Chopped Spinach and/or Kale
1 ½ cups (360 mL) artichoke heart quarters (can or jar)
2 cups (480 ml) uncooked short pasta cuts such as penne or rotini
2 tbsp (30 ml) extra-virgin olive oil
1 tbsp (15 ml) chopped garlic
¼ tsp (1 mL) red chili flakes
½ cup (120 ml) roasted red pepper strips
Salt & pepper to taste
Grated parmesan cheese for garnish
Cook pasta according to package directions. Drain when ready. Reserve ½ cup pasta water.
Meanwhile, heat oil in large skillet; add chopped garlic. Stir. Add the artichoke heart quarters. Sauté for 7 minutes.
From frozen, add Cookin' Greens Chopped Spinach and/or Kale. Continue cooking until both artichokes and greens are tender, approximately 7 minutes, or until they reach an internal temperature of 165° F (70° C). Season with salt and pepper.
Add red pepper strips and heat through. Add pasta to vegetable mixture along with 1/2 cup of reserved pasta water. Toss together; turn out onto a serving bowl or platter and sprinkle with Parmesan cheese.
Low Calorie: **Add extra Cookin' Greens veggies to this dish
Gluten Free: ** Use a gluten pasta
Dairy Free: ** Use a dairy-free cheese or remove cheese and add more veggies, season with herbs if desired
Vegetarian:
Cookin' Greens http://cookingreens.com/