You cannot go wrong with chocolate and chili. This recipe is easy and fun to make- perfect for a chilly evening or a weekend dish after shovelling snow. The smoky ancho chiles and earthy kale and unsweetened chocolate add unexpected depth and richness to this hearty chili.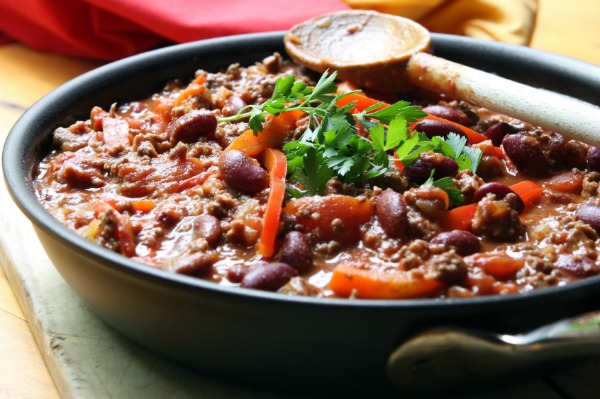 Cookin' Greens Ancho Chocolate Chili
2015-03-17 12:47:00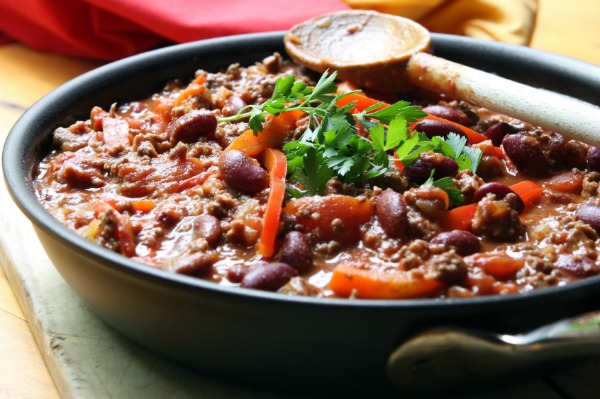 Serves 4
1 bag (500g) Cookin' Greens product of your choice
2 medium dried ancho chilies
½ tsp (3ml) cumin
1 ½ tsp (8ml) dried oregano
¼ tsp (2ml) cinnamon
2 tbsp (30ml) olive oil
1 large red onion (120g), chopped
4 garlic cloves, 4 tsp, (20ml), finely chopped
1 cup (250ml) shitake mushrooms, thinly sliced
½ cup (125ml) corn
2 medium zucchini (200g), cut into ½ inch pieces
3 tbsp (1oz) unsweetened chocolate, finely chopped
1 (14 ½ oz) can diced tomatoes
1 cup (250ml) water
2 (15 oz) cans organic pinto beans, do not drain .add liquid with beans
Slice chilies lengthwise, then remove stem and seed. Heat a dry skillet over medium heat, then toast chilies, turning and pressing down with tongs for 30 seconds. Cool. Slice chilies into four. Pulse chilies in spice grinder until finely ground. Place in small bowl. Add cumin, oregano, cinnamon, and salt.
Heat olive oil in a large pot. Add onions, stir. Cook for four minutes or until soft. Add garlic and cook, stirring for one minute. Add mushrooms, corn, zucchini, and kale. Add ½ cup water. Cook covered for 5 minutes.
Add chili spice mixture. Stir.
Add chocolate, tomatoes, and water. Simmer covered for 20 minutes.
Stir in beans and liquid from can. Simmer for 5 more minutes or until beans heat up.
Gluten Free
Low Calorie
Dairy Free
Vegetarian
By

Nettie Cronish
Adapted from Nettie Cronish
Cookin' Greens http://cookingreens.com/