DATE: November, 2014 – Toronto
Girl- you deserve a #girlsdayout!
Grab your girlfriends, sisters and mom and come to the Metro Toronto Convention Centre, November 7-9 2014, to enjoy the best selection of the newest products and services to hit the market just for women!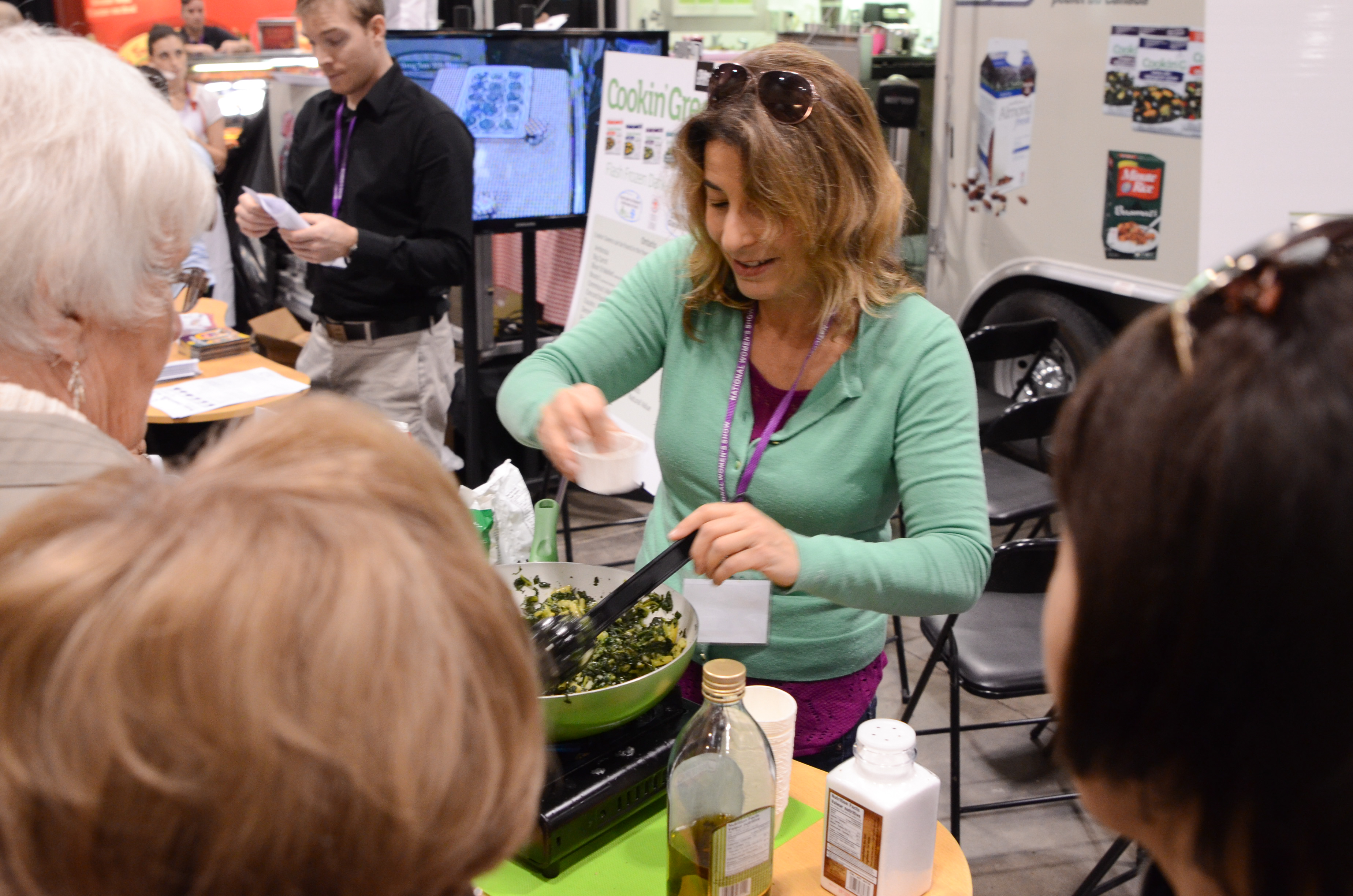 Here is Toby serving up some greens to these excited ladies!
The National Women's Show is a huge convention that comes to Toronto once a year, boasting hundreds of exhibitors (over 450!) and thousands of guests with a Shop 'til you drop attitude. This year's show highlights include contests, fashion shows… not to mention a Calvin Klein sponsored Fire Fighter Show! There are also workshops on beauty, cocktail mixology and home décor. Guest speakers include – Patrick Adams on the hit series Suits, Doug Davidson from the Young and the Restless, and Dr. Marla Shapiro. Therefore, whether you come for the free sampling, workshops or shopping- there really is something for every woman.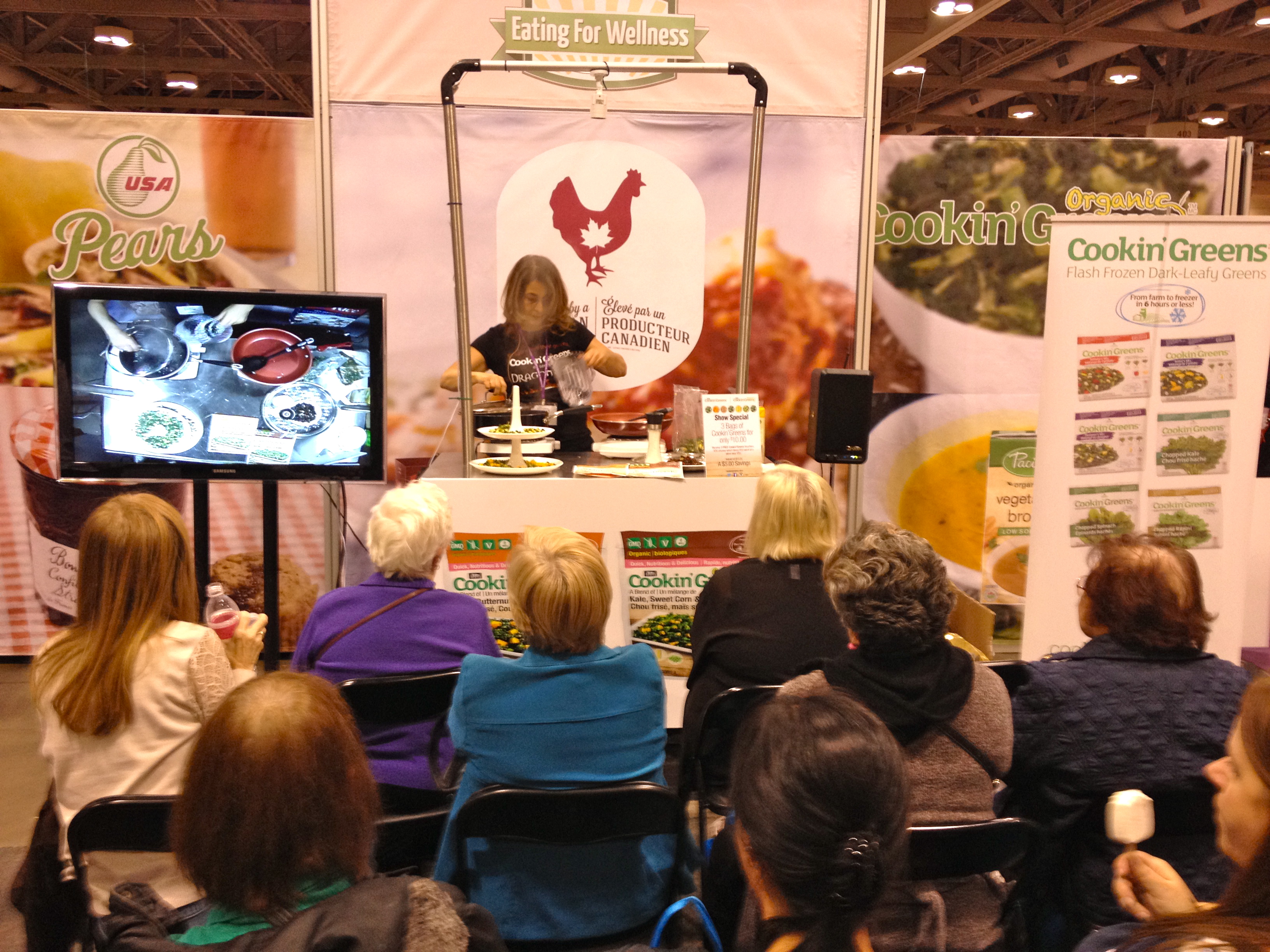 Toby is centre stage as she demos our NEW Organic blends
Cookin' Greens at The National Women's Show 2014
We are excited to return to The National Women's Show– this year will be better than ever because we will be proudly showcasing, demo-ing and selling our NEW line of Cookin' Greens Organically grown flash frozen dark-leafy greens.
Visit us at booth #845 at the show to try our Cookin' Greens Organic Chopped Spinach or Kale in a Green Wellness Smoothie (freebies at the show!), or try some of our hearty freshly frozen organic blends that you can prepare for dinner in a snap- Cookin' Greens Organic Kale, Corn & Peas and our Organic Kale, Butternut Squash & Quinoa…. Ask for coupons, store locations and recipe ideas at the show!
Featuring Cookin' Greens Organic Kale, Butternut Squash and Quinoa Blend
Cookin' Greens Women's Show Health & Beauty Secret:
You are what you eat. Odds are if you eat a healthy diet rich in dark- leafy greens, other vegetables and fruit, you will feel and see the difference inside and out! Be a dark-leafy green goddess and enjoy a green smoothie with Cookin' Greens Chopped Kale or Spinach every morning for a great start to your day!
Show Wrap Up:
WOW – again, record attendance and lots of fabulous women stopped by our booth to say hello, update us on how Cookin' Greens works for their daily routine and of course – to sample our latest products and take advantage of our annual National Women's Show Special – Buy 3 Bags for $10 and receive our famous Cookin' Greens Thermal Bags…
We sampled about 600 people per day (hard to keep up) and we loved every minute of it over the 3 days. We are so lucky to have such great Cookin' Green Fans now. We appreciate each and every one of them. We look forward to seeing you all again in 2015 and of course NEWBIES –contact us anytime for coupons or just to…chat!
See you November 2015!