Do you like the idea of cooking a healthy meal with dark- leafy greens but don't know where to start? Feeling like your culinary inspiration is on holiday? Well, our updated "Cookin' Greens Fast Track Recipe Ideas" program has you covered.
We are making it even easier for you to spend less time in the kitchen, both deciding what to make and cooking the actual meal, and more time enjoying the fruits – or vegetables – of your labour.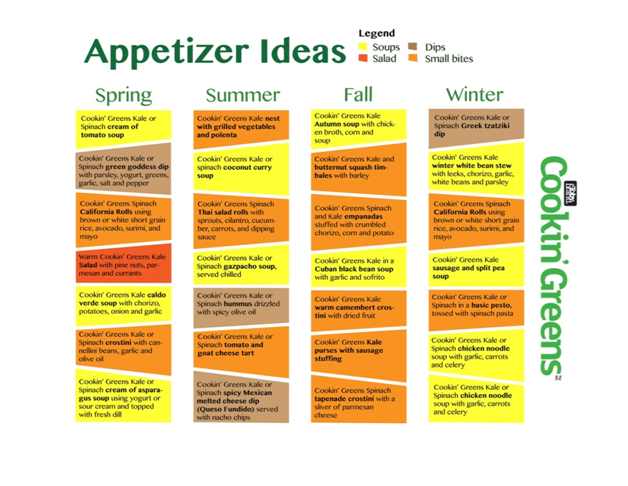 Check out a sample of our 'Fast Track' program … Some pretty yummy Cookin' Green appetizer ideas
Our Cookin' Greens products can be incorporated into Soups, Salads, Dips and Small Bites in every season. Tired of plain, store-bought hummus? Make your own and add a green twist using Cookin' Greens Chopped Spinach or Kale! Ever thought of making your own sushi? You can add Cookin' Greens in there too!
Cooking healthy and delicious food has never been easier.
Check out our recipes tab for full recipe ideas.