The Big Carrot is one of our Cookin' Greens retailers in Toronto, Ontario. We interviewed Public Relations and Education Outreach Coordinator Sarah Dobec to find out more about the store!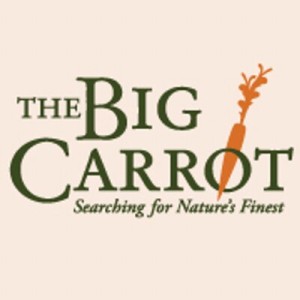 What are the top local brands/products you carry?
Top local brands based on volume are Sunflower Kitchen, Organic Meadow, Harmony Organic Dairy, Homestead Farms (eggs), Black River Cheese, L'ancetre Cheese, Hewitt's Dairy.
What is your favourite Cookin' Greens Product?
Kale!!
Which Cookin' Greens is your best seller?
Kale!!
Why do people love to shop at your store?
Our customers appreciate our rigorous product standards and our commitment to organic agriculture. People also love that we have nutritionists on staff and offer many opportunities for education including free Thursday Evening Lectures!
What is your store's favourite social media channel to engage?
We have profiles on Facebook, Twitter, Pinterest and Instagram. They are all a little different but a great way to engage with our customers. If we had to pick though, it would have to be Instagram. Lots of creativity there! We love customer posts of what they make with our products!
The Big Carrot is a co-operative business. How is that different than other businesses?
We are a worker owned business based on cooperative principles. This means we have several shareholders in the business who help shape our policies and brand. It also includes our community giving commitment where a percentage of profits is invested back into projects and organizations in our neighbourhood.
348 Danforth Ave, Toronto, ON M4K 1N8
(416) 466-2129