16655 Yonge Street Newmarket Ontario L3X 1V6
2535 Major Mackenzie Dr. W Vaughan Ontario L6A 1C6
Natures Emporium is a natural food market. For more than 20 years, they have been committed to sustainable, healthy living with natural, local organic food, vitamins, supplements, gluten-free, natural make-up, skincare, home-care and more! We spoke with Ryan Denise, Director of Communications, to see what's Cookin'….
What are the top local brands/products you carry?
It's difficult to narrow that one down; we offer so many local products throughout the store. Much of our selection is sourced from small-scale independent producers, all of whom do a wonderful job in ensuring that Ontario is well represented in the natural & organic foods category. Focusing on produce, Pfennings and Greenbelt Microgreens are long-time favorites of our customers year-round. We're really looking forward to the turn of the seasons, where we'll once again be seeing more exciting local fresh produce come through our doors!
What is your favourite Cookin' Greens Product?
It's hard to say – each offers a great, convenient way for our customers to enjoy fresh Canadian produce year round. Certainly the Athlete's blend and Designer blend make that goal even easier to reach!
Which Cookin' Greens is your best seller?
Definitely the Kale – whether fresh or in frozen form, Kale is one Super-green that our customers can't seem to get enough of.
Why do people love to shop at your store?
Our customers appreciate our variety, our service and the fact that we don't compromise when it comes to their health. They appreciate that they don't find conventional brands beside the natural and organic varieties they've come in search of. They appreciate that we support local, small scale family businesses, and help them bring their products out in front such a great audience. They appreciate that we have nutritionists on staff always. A helpful, knowledgeable hand is never far away, and many of our customers have come to depend on that shared knowledge – which we're happy to provide freely!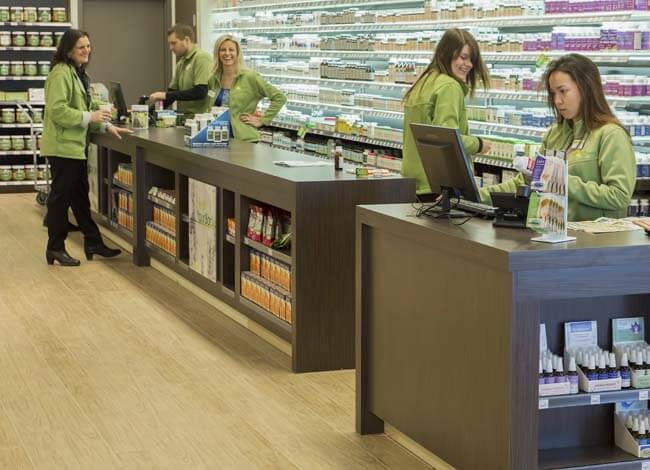 What is your store's favourite social media channel to engage?
Facebook is certainly our strongest area of engagement, with Twitter also playing a crucial role as we engage in dialogue with our incredible customers. However, with the recent introduction of our Instagram channel, and the great reaction we've seen there, we will certainly be paying it a lot of attention going forward! It's such a great way to instantly connect with a wide audience of individuals who are as passionate or more as we are about real, healthy food and healthy living!
Nature's Emporium is your family business. What 3 words describe your family at Nature's best?
Trust, Compassion and Care. We couldn't provide the kind of service our customers and team depend on without keeping those three words in mind at all times.