Marni Wasserman is a Certified Natural Chef, Culinary (Holistic) Nutritionist CNP and Health Strategist. She owns a plant-based cooking studio in Toronto.
My clients and students always ask me what is one thing they can do to improve their health. Or which one food is the most important for a healthy diet. My answer is always GREENS! If there is any place to start – it is with greens. Most people do not eat enough green veggies. So no matter what your diet currently consists of – whether you are an omnivore, vegetarian, vegan, flexitarian (a little bit of this and a little bit of that), raw foodie – it doesn't matter. Getting your greens in is the first step to optimal and long-lasting health.
Leafy green vegetables are one of nature's richest sources of a full spectrum of nutrients. So look beyond spinach and broccoli and get familiar with things like kale, collards, swiss chard, arugula, bok choy.
Depending on what your taste buds are calling for, there are so many ways to get your green veggies in. The good news is that each green offers a very different unique taste and texture. Even if you have to sneak them into a smoothie for the fussy ones in the family, I promise you – there is always a way!
Whether you are following a vegan diet or just want to take your nutrition to the next level– greens should be an essential component to your day.
It is very common to get overwhelmed when it comes to greens. My suggestion is to start basic. Pick one new green a week to "play" with until you have found a way for you and your family to enjoy it. The number one complaint is that greens are too bitter. Well, yes collards and kale can be bitter – especially if they are new to your palette. Once you find a way to get them into a meal – whether they are added to a smoothie, tomato sauce, chickpea stew, chunky vegetable soup, grain dish or simply dressed with olive oil and sea salt, there is no turning back. You will be hooked because you will suddenly start to feel better, have more energy and you may even lose weight. That doesn't sound bad does it?
Experiment with nature's emerald gems, have fun and make sure you get your greens in everyday. Just remember that a meal isn't a meal unless there is something green on your plate!
Green Garden Veggie Pasta Salad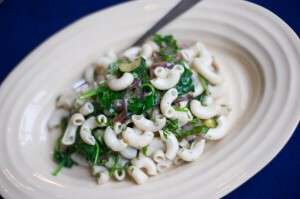 Ingredients:
8-12 oz pasta (kamut, spelt, Tinkyada brown rice or quinoa)
3 tablespoons extra virgin olive oil
1/2 cup sliced red onion1-2 yellow summer squash or zucchini, quartered lengthwise and cut into 1/2 inch chunks to equal 2 cups
2 garlic cloves, crushed or minced
1-2 cups Cookin' Greens Chopped Spinach or Kale
10-12 spears of asparagus chopped
1 tablespoon finely minced chives
1/4 cup finely chopped Italian parsley
1/4 cup finely chopped fresh basil
Salt and pepper to taste
Instructions
In a large stockpot, bring 4 quarts of water to a boil with 1 tablespoon of sea salt.
Meanwhile, in a medium skillet, heat 1 tablespoon of olive oil. Add onion and saute for 3 minutes. Add squash, asparagus and continue to cook for 5 more minutes. Add garlic and cook another 2 minutes. Turn off heat and set aside.
Cook pasta until al dente. Drain, place in a large, shallow serving bowl, and toss with remaining 2 tablespoons of olive oil, sauteed vegetables, chard and fresh herbs.
Season to taste with salt and pepper and serve immediately.
About Marni Wasserman:
Marni Wasserman, Veg loving Culinary Nutritionist + Health Strategist and Author of Plant-Based Diet for Dummies and Fermenting For Dummies. I own Marni Wasserman's Food Studio and Lifestyle Shop where I teach my signature cooking classes, workshops and retreats. I am passionate about showing people how everyday eating and living can be simple and delicious!