Bryn's Cookin' Greens Summer Blog Series:
Summer is the season for entertaining friends and family! Cookin' Greens keeps things easy with our selection of flash frozen greens (already chopped, washed and blanched for you) so you can enjoy more time with the people you love, enjoying the food you love. Patio optional.
Bryn shares her favourite "GIRLS Night In" recipes and how a time-saving, healthy product like Cookin' Greens came to the rescue to make something unexpectedly amazing…
Cooking special meals can be tough and time-consuming especially when you're under time pressure and have guests coming over. But if you keep your cool, and think outside of the box, you can end up with something unexpected…unexpectedly amazing!
For me, it's always the same story: I get so caught up in whatever I'm doing beforehand that I don't start the meal on time. Soon enough, whomever I'm having over for dinner arrives and I have gotten nowhere. Sometimes, I don't even have a plan yet! So the question is, how can I put together a delicious meal in almost no time at all?
A few nights ago, I decided that brown rice and quinoa penne topped with black lentils, roasted vegetables, and a cashew lemon paté would be the best solution.
I love brown rice and quinoa penne because it packs much more iron and more protein than regular wheat pasta, yet requires less cooking time than brown rice or quinoa grains.
Black lentils are great because they are an easy way to add a contrasting texture; not to mention that they are filled with protein, fibre, and iron — and they also have a shorter cooking time than red or green lentils.
The pasta and vegetable part was easy. I threw the penne into the pot, cooked up the black lentils, and put chopped yellow peppers, grape tomatoes and zucchini into the oven.
The spinach cashew pate, on the other hand, was a last minute invention. In fact, I had intended to spice up the otherwise fairly simple pasta dish by making a cashew spinach ricotta. But having an animated conversation and trying to get creative with spices at the same time usually doesn't go as planned. So what I ended with resembled nothing like ricotta, but was instead an amazing paté.
As I was tight for time, it was definitely a huge help that I had the Cookin' Greens Chopped Spinach on hand; I just put it in the microwave for a couple of minutes and then into the food processor. No chopping or long cooking time required!
Not only did I serve the paté as a garnish on the pasta, but I also put it on crackers to serve as an appetizer.
It was a great meal – simple to make, yet with a semblance of sophistication and planning due to all of the diverse flavours and colours.
Try it out for yourself!
Cookin' Greens Chopped Spinach Cashew Paté: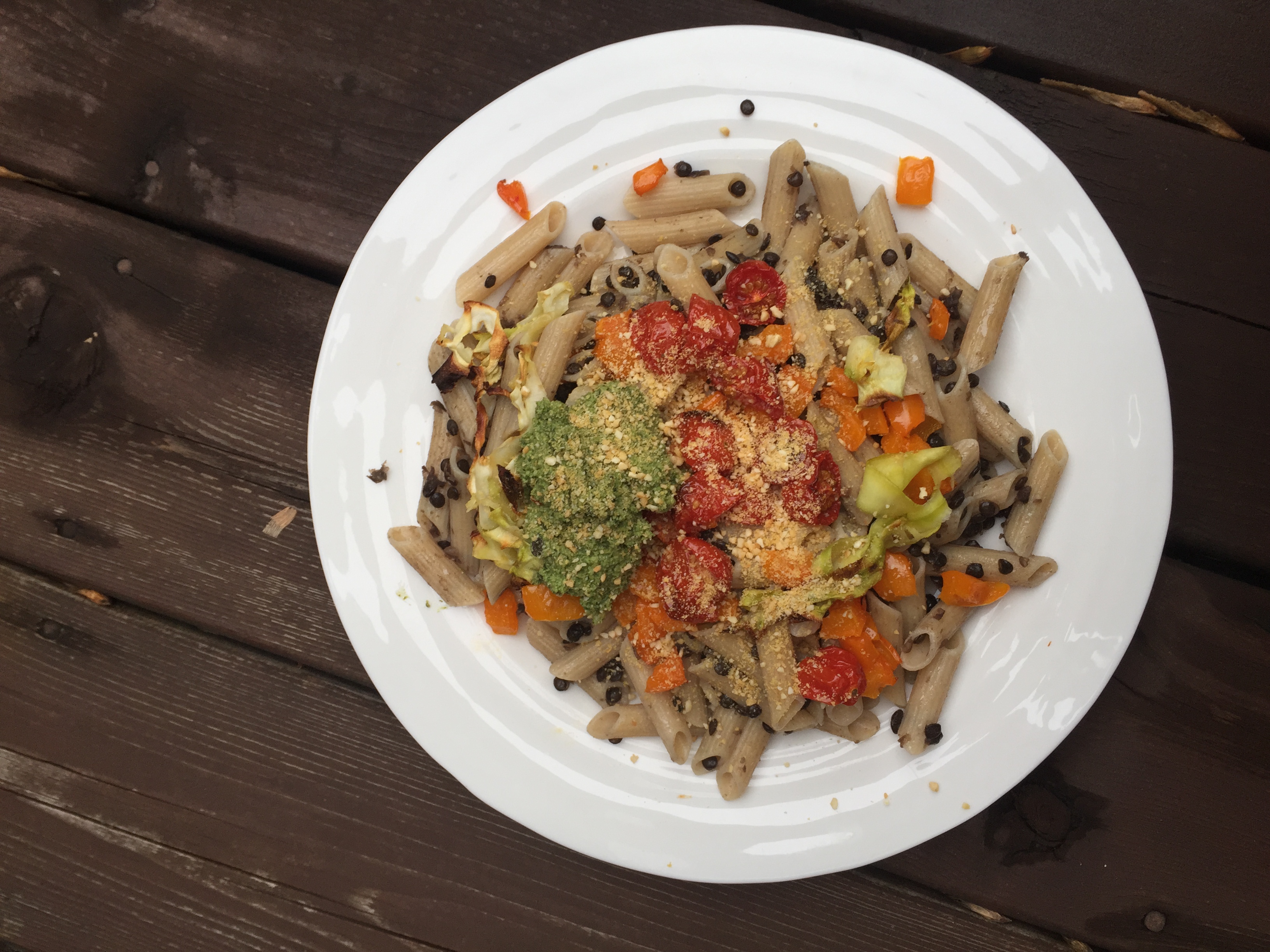 Paté Ingredients
1 cup cashews, soaked
1/3 cup nutritional yeast
½ cup Cookin' Greens Chopped Spinach, cooked according to package instructions
1 large garlic clove
¼ cup lemon juice
3-5 fresh basil leaves
Method
Soak the cashews in water for 2-4 hours
Place all ingredients in a food processor and blend until creamy
Serve as a spread for crackers, in a sandwich, or on pasta
—–
Summer 2015 is here! This summer we are so excited to have student, vegan blogger, Bryn Ferguson join us for some cooking inspiration with Cookin' Greens. Frozen vegetables in the summer? You bet and we can't wait to show you how!
We hope you read along as she shares her foodie experiences, tips & tricks, recipes and photos across her 8 featured blog posts.
Twitter handle:
Instagram: @veganfoodadventure