By Eileen Campbell B.Ed., M.A. Red Seal Chef Owner Esculent Food Consulting Inc.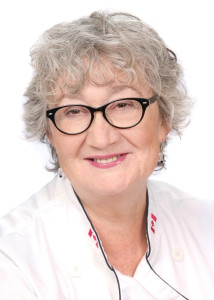 I am a culinary consultant and award-winning recipe developer with 30+ years of experience in the food industry in a variety of roles. A self-taught Red Seal chef and marketing professional, I specialize in culinary project management for my clients who range from contract food service companies and restaurants to food manufacturers and growers. Food is an all-consuming passion for me – I consider myself a global foodie!
I graduated from the University of Edinburgh, Scotland with a Master of Arts in French language and literature and a Bachelor of Education.
After teaching French for 14 years with the Toronto Board of Education, I took a leave of absence to spend a year working and studying in Paris, France. My passion for food really began to take shape at that time. Part time classes at the Cordon Bleu cooking school sparked a real interest in a culinary career on my return to Canada.
I worked for contract foodservice companies from 1980 to 2004 in a variety of roles in operations, training, marketing and culinary development. In 2004 I started Esculent Food Consulting and am currently involved in culinary and food concept development for a variety of companies.
I have won awards for recipe development and published a cookbook with Dieticians of Canada in 2007.
I enjoy working for clients who are very passionate and dedicated to their business – Toby is one of these indefatigable individuals who inspires you and makes you want to work hard on her behalf. She has a great product lineup and is always looking to introduce new frozen vegetables products to the marketplace. The products are of high quality and make the consumers' job easier at home and in foodservice. This is a recipe that I developed for Toby a few years ago and it's still one of my favourites.
Cookin' Greens Sausage and Greens Pizza Recipe: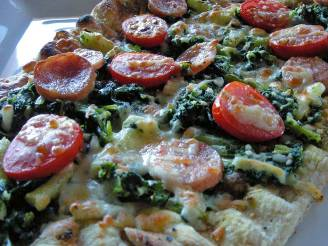 Makes 4 small pizzas that can serve 4-8 people depending on their appetites!
Prep time: 15 minutes
Cook time: 15 minutes
Total time: 30 minutes
Ingredients
1 pizza dough ball, divided into 4
1 tbsp (15 mL) extra virgin olive oil
1 tsp (5 ml) crushed garlic
3 cups (720 mL) Cookin' Greens Chopped Kale or Spinach
½ tsp (3 ml) sea salt
12 grape or cherry tomatoes cut in half
¼ cup (60 mL) basil pesto
4 oz (113 g) cooked Italian sausage, cut in slices
4 oz (113 g) shredded Mozzarella cheese
3 tbsp (45 ml) shredded Parmesan cheese
Method
Place dough pieces on oiled tray and cover with clear wrap. Let dough rise at room temperature until double in size.
Roll out or stretch each piece of dough to about ¼" of thickness. Return to oiled tray to transfer to barbecue. Don't worry if the dough is not a perfectly round shape.
Heat barbecue to medium. Place dough directly on grill and cook for 2 minutes per side to make grill marks and to set the crust. Remove from grill and set aside while you prepare the toppings.
Combine olive oil, garlic, Cookin' Greens Designer's Mix and salt.
Spread 1 tbsp (15 ml) pesto over each pizza crust; top with ¾ cup (180 mL) greens mixture, 1 oz (28.4 g) cooked sausage rings and 6 tomato halves. Finish with 1 oz (28.4 g) Mozzarella and 2 tsp (10 mL) Parmesan cheese.
Heat one side of the BBQ to high and leave one side off. Place the topped pizza directly on the grill of the "off" side and close the lid. Bake until the vegetables are cooked, the dough is lightly browned and the cheese has melted, approximately 5-10 minutes.
Variations
Replace the pesto with pizza sauce; sausage with cooked chicken breast strips or bacon or shrimp; the tomatoes with red pepper strips or mushrooms; Mozzarella cheese with Cheddar, Provolone, Feta or any other favourite cheese blend. Replace Cookin' Greens Spinach or Kale with any other Cookin' Greens blend, or combine Spinach and Kale.
To make a calzone instead of a flat pizza, roll out the dough pieces. Place all the fillings inside exactly like the flat pizza, but in the centre of the dough only. Dampen the outside of the dough with water. Stretch dough up and over the filling. Press down tightly and fold to secure. Bake as per flat pizza.
Healthy Choice:
Use a whole wheat or multigrain pizza dough, reduced sodium sausage and lower fat cheese blend.