By Toby Davidson, Cookin' Greens Founder, Innovator
People have said that I must have been born in a supermarket. In some ways I most certainly was. I'm from a second generation Canadian food industry family. I'm obsessed with "firsts" of any type. To get Cookin' Greens into the consumer's home freezer, I bundled up my many years of food industry experience along with a Business Degree from Ryerson University, but most importantly, my 25 years of living with one of Canada's leading food industry guru's, innovator and mentors – my late father, Brian Davidson.
Keen and determined to share these new found frozen vegetables , in 2009 surrounded by a supportive team, I set off to convince every Canadian consumer that flash-frozen dark-leafy greens are the future frozen peas and corn….it's now 2016 and we are well on our way to achieving that goal.
I'm only as good as my weakest link – so I surround myself with some of the industry best talent possible from design, to product development, to QA, to Marketing… to effectively get what needs to get done…done!

Cookin' Greens Frittata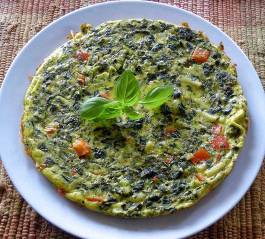 I really enjoy the combination of any of our Cookin' Greens product with eggs in the morning- this simple frittata is easy to make and anything but simple in taste and nutrients- packed with protein from the eggs and anti-oxidants from our greens!
Serves: 4 Prep time: 10m Cook time: 20m Total Time: 30m
Ingredients:
1 bag (500g) of any Cookin' Greens product, but recommend Cookin' Greens Athlete's Mix
1 clove garlic, 1 tsp, (5ml) minced
4 tbsp (60ml) olive oil
5 large eggs
1/2 cup (120g) freshly grated parmesan cheese
Salt and pepper to taste
Method:
In a 12-inch non-stick skillet, heat 2 tbsp (30ml) of oil over medium heat. Sauté the Cookin' Greens product of your choice and garlic for 2 minutes, until heated through. Remove cooked greens from pan – put aside.
In a large bowl, beat the eggs with the cheese; add the sautéed greens mixture, salt and pepper.
Add remaining oil to non-stick skillet. When the oil is hot, lower temperature to low and add egg mixture.
Cook until frittata is set, 10-15 minutes, flip frittata into a plate, cool or enjoy hot