By Neil Forester, Owner Operator of The Substance Entertainment Group and Headrush Training Center in Toronto
I am an owner of two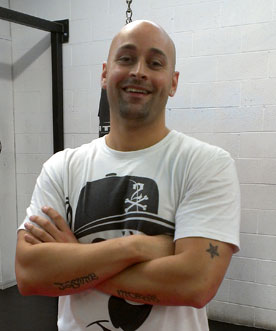 businesses that take up most of time. My events agency produced over 30 events a year nationally, and when I am not neck deep in event planning, I also co-own a mixed martial arts gym that houses many professional and amateur fighters, some of which are UFC fighters and pro boxing world champions. When I am not working, I try to spend all my time with my 11-year-old son and my 13-year-old daughter. Other than work and kids, I am a bit of a health nut who enjoys weigh training, martial arts training and watching NFL football.
I am extremely proud to be a part of the Cookin' Greens community because I believe in healthy eating. I love what Cookin' Greens is about and what it stands for, I was impressed with the product selection and how advanced it is in terms of maintaining the nutrients while still being flash frozen. Having two young kids in addition to being in the MMA and health community, I am always looking to find great tasting and healthy products that are not harmful to our bodies, and are not pumped full of pesticides and other dangerous chemicals. I am proud to support and endorse a brand like Cookin' Greens as we need more health and safe food products like these.
Being on the go, I will often use Cookin' Greens in one of these fashions:
Include it in my nutri-bullet along with other fruits and protein powders. A cup of Cookin' Greens at minimum is a must in all my daily smoothies, sometimes twice a day.
I also like to put Cookin' Greens in a skillet with coconut oil and a ginger/garlic paste to give it a hint of flavour, and enjoy alongside a red meat or chicken meal. It is a tasty, healthy option that is light and good for you.